Check out Part VII here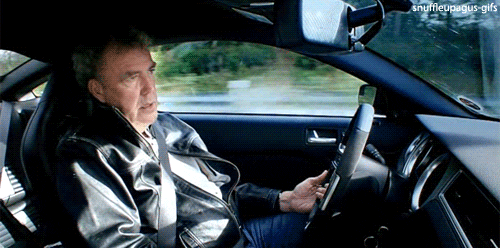 This is what it felt like after driving for about 30 minutes on the highway towards Sheki. Our excitement of leaving packed Baku quickly wore off as we were surrounded by dry, small hills and desert – it was a total contrast to driving around in Georgia, which was covered in green and had greater hills and mountain views. Luckily, Sheki was not that far away so we were going to get there the same day and rest up. However, the roads were smoother and better than in Georgia, so we could safely drive within the speed limit and a little bit over (as we were advised, we could go + 10 km over the speed limit, which was nice) and not be afraid. We had snacks and water with us, so we planned on driving without any stops.
Ben seemed to have fallen in love with the automatic gearbox and was already driving like a pro. However, after a few hours, the police car showed up behind us and we were requested to pull over.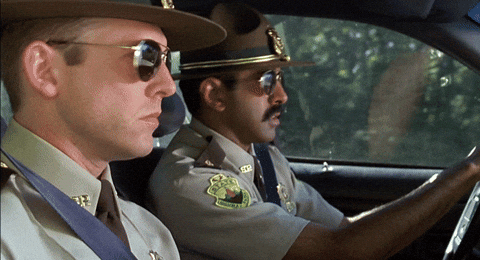 Ah, bollocks. What did we do wrong? Nothing, it turned out – the police just did a regular check and let us go. What the hell – not even once were we pulled over by the police in Georgia for the entire week that we were there!
We then took a turn to the right, on a narrow two-lane street. Ben sped up and took over the car in front of us, as it was too slow and boom – another police car flashed behind us, giving us a signal us to pull over.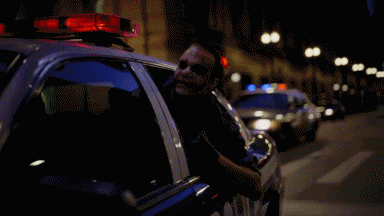 Balls – what now? Ben presented the documents and chatted with the police guy for quite some time. Then both of them went silent for a short while and continued talking. I could not make out a single thing they were talking about, besides when Ben mentioned where two of us were from. The police guy then smiled, Ben thanked him and he went away. So, what happened was that Ben overtook a car on the road where we were not allowed to overtake the car and was fined for about 30 Euros (we agreed that we would split all the fines between the two of us). Ben explained the police officer that he was not aware of it, was a newbie and understood his mistake. We were then let go. At least that was nice.
I found some notes on the language differences between Turkish and Aziri and they are quite fun! Check this out.
For example, in Turkish, to translate it literally, "cigarettes are something you drink" (I know that sounds quite stupid) but in Azeri, "you can inhale the cigarettes". In Turkish, a shop would be "closed" but in Azeri "tightened". Also, the way how Azerbajani people say "money' means "stamp" in Turkish.
Here are some funny words that mean different things in both languages:
Yarak : gentleman's sausage (in Turkish), Weapon (Azeri).
Kerhane : Brothel (in Turkish), Company/Firm (Azeri).
It was evening when we reached Sheki – I already found a hostel for us while we were driving, so we decided to phone them up. Ben did the talking, agreed on a small discount (since we were staying there only for one night) and we put the address on the map. Funny thing was that hostels/hotels would normally not accept local unmarried couples in (according to their religion, they would not accept that) – but if you are a tourist, you've got nothing to worry about – just make sure you say that (but I guess you won't have to if you speak English with them).
We followed the map and arrived at, what it seemed like, the middle of nowhere and we could not find the place.
We asked a local for help and they walked together with us in search for a place (how nice of them) but we still were unable to find it – the booking website must have displayed a wrong address. The local then advised us to approach local taxi drivers and ask for help – Ben talked to them and they told him that we indeed got a wrong address but they would gladly help us out and drive with us there. We said that we would get our car and drive together with them. Perfect – both of us were longing to park the car, get back to town to get some food and relax, at long last.
After walking around in the dark, we finally got to our car and drove to the spot where we re-united with our new friends. They got in their own car and we followed them towards the hostel. I've got to say, they drove as if they were chased by the police but Ben managed to keep up with them. We were greeted by a nice-looking house and the receptionist, who opened the gate for us. To be correct, this was a villa house with a few rooms and we were the only guests there. Smashing – booking a room in that place was the best decision. We drove in, parked our car and when I got out of the car to get our things, Ben stayed in. Once I had got our stuff, I asked him why on earth he was still in and he said that the key would not get out of the keyhole in the car. He said it was a common problem and no matter how he tweaked the key and tried pulling it towards himself, nothing worked. The key was stuck.
The receptionist, Mr R, approached us and asked what was up. Sadly, he did not speak English, so Ben was interpreting what I wanted to tell him. Ben tried a few ways of getting the key out – turning the wheel left and right, putting the hand break up – whatever we did, nothing worked and Ben did not want to give up – he was in the car for about 30 minutes before we had given up and called the car owner. He gave us a few tips (which we already tried but with no success) and then told us that if nothing worked, then we should call a local taxi driver as they would be more helpful and experienced. Ben tried getting the key out again and after about 10 more minutes, we got a call from a local repairman that he would drive to us to help fix the problem (the car owner called him). While we put out things inside the house, gave our passports and chatted with Mr R, we heard that the guy arrive. He sat in the car, moved the wheel and hand-break about and pulled out the key – he simply pushed the key slightly into the keyhole and pulled it out with a bit of force. Ben then replicated exactly that method a few times and we were happy again. Phew! Worst case scenario, if we had not managed to pull the key out, we would have to go to a repair shop where they would have to disassemble the car wheel from the dashboard – it would have taken us the time that we could not spare.
Mr R took pity on us and offered to cook something for us. We told him that we had some left-over food and he offered to warm it up for us and prepare some tea. We then fired up a conversation and shared our plans with Mr R and he gave us a few tips. I wanted to go further north from Sheki to the mountains but Mr R advised that we would need to have a 4×4 to get around to get a great view from the mountains and generally drive around (our friend insisted that there was not much to see there). Mr R then told us that he could show us around Sheki the next day (as there were quite a few interesting sights) and that we could then head over to lake Göygöl and then onwards to Khinaliq (we still had to drive to Baku first though to get north). Ben continued chatting with Mr R about politics and I went upstairs to take a shower and then I crashed my head into the pillow.
We woke about about 8 a.m. the next day and walked to the castle that was next to the villa and the view from there was pretty nice:
We headed towards Palace of Shaki Khans, walked about and got our talisman for the road from a granny on the street – it was basically beads made out of dried fruit. We headed to eat some Piti (this is traditional food in Sheki and you should try it if you ever get a chance as just eating the thing is an experience) at Çelebi Xan restaurant (price was quite reasonable for a full meal for three people). We then headed towards an Albanian church of Kish, took nice pictures on the way and headed towards a hotel, which was built for the wife of the president.
We then dropped Mr R to his place, thanked him for his immense hospitality and drove onwards to Ganja. I initially wanted to drop it off our list but since our friend strongly recommended us to go there, we fired up the engine.
Also, earlier in Sheki, we dropped by a place, which used to be a marketplace centuries ago and a place for traders to stay in (it is now a hotel/museum) and when we were about to leave it, one of the owners approached us and started talking to us. She found out that Ben was was from Turkey and offered him a free stay at a hotel whenever he wanted.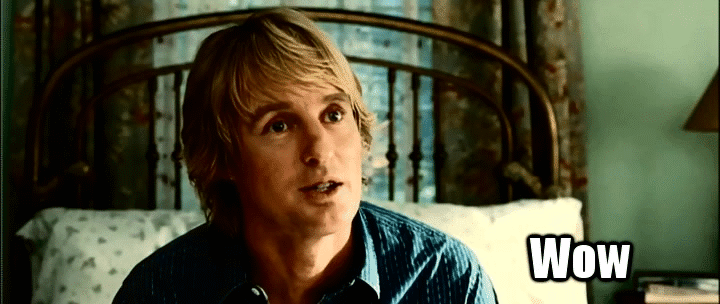 Good lord, it felt like Ben was treated like saint there! Well, Azeri and Turks do love one another after all but I did not know it was that extreme. Wow. Some folks, however, were not kind towards Russians – in some cases, they were quite negative about them – this is just something that always came up in conversation when they mentioned their president and Russia working together. The political situation in the country was, to say the least, quite tense.
Anyway, it was already growing late and we still had to make it to Ganja and the lake as we had to drive back to Baku the next day and the time was pressing.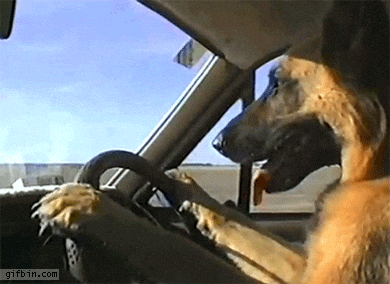 To continue to Part IX click here